If the domain name you own is hosted by GoDaddy, and you'd like to sell in on Brandpa, you need to prove its ownership by pointing it to Brandpa. You can point it to Brandpa by using GoDaddy's DNS records capability. This is how you can do this.
1. Log in to your GoDaddy account and click on My Products (or My domains).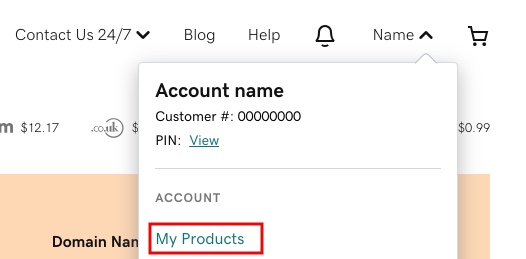 2. Find the domain name you would like to sell on Brandpa, and click on the Manage button.

3. Scroll down the page to the Additional Settings area of the page and click on the option called Manage DNS.
4. Scroll down the page to the Nameservers area of the page and click on the Change button (this is where you will be able to change the nameservers from the default ones, to the Brandpa ones).

5. In this screen, select the option "I'll use my own nameservers" (please see the screenshot below) and edit the the fields so they have the following text:
ns1.brandpa.com
ns2.brandpa.com.
Then, press the Save button.

That's it 🙂 It may take up to 48 hrs for this change of nameservers to be recognised by Brandpa, but as soon as we do, you will then be able to sell your domain name on Brandpa.
If you have any questions about the above process, please contact our support team by submitting a ticket: Submit a ticket.