We're pleased to announce a somewhat ridiculous number of improvements to Brandpa today. Let's break it down:
Instant domain appraisals
Set your own pricing
All-new listing process
Update listed domains
Keyword analytics
New shopping experience for buyers
Remove listed domains yourselves
New sellers and new pricing
The future of Brandpa
Instant domain appraisals
Appraisals are now conducted by Brandbot, an AI we have developed to mirror our manual assessments.
Sellers can now enter any permitted dot-com domain – registered or not – and get an appraisal on it within a few seconds for free: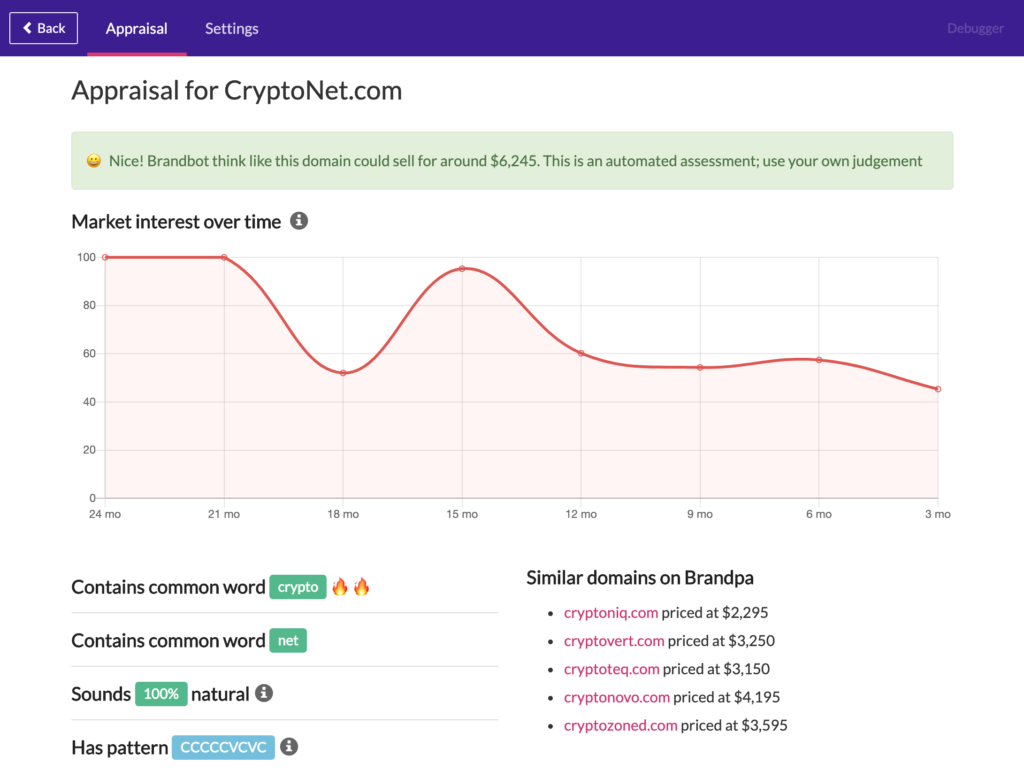 We've taken a lot of what we use in our own manual appraisals, and given it to you, our sellers. So now you can see things like:
Market interest over time – if you're selling crypto domains (screenshot above), you should probably know that the market is cooling
How hot certain keywords are – see the flames next to "crypto" (above)? It might be cooling, but it's still really hot.
Comparable domains on Brandpa – see domains that look similar to yours on our website.
Similar domains sold in the past – we don't disclose names, but you can now see a breakdown of how many similar domains have sold and for how much (screenshot below).
We also include instant links to appraise a name via GoDaddy, lookup the domain in DNPric.es, Google for it, and Google for translations of it.
Most of our sellers are domainers, so we built our new submission screen for professionals. If you want you can now copy + paste a long lists of domains and Brandpa will appraise all of them automatically.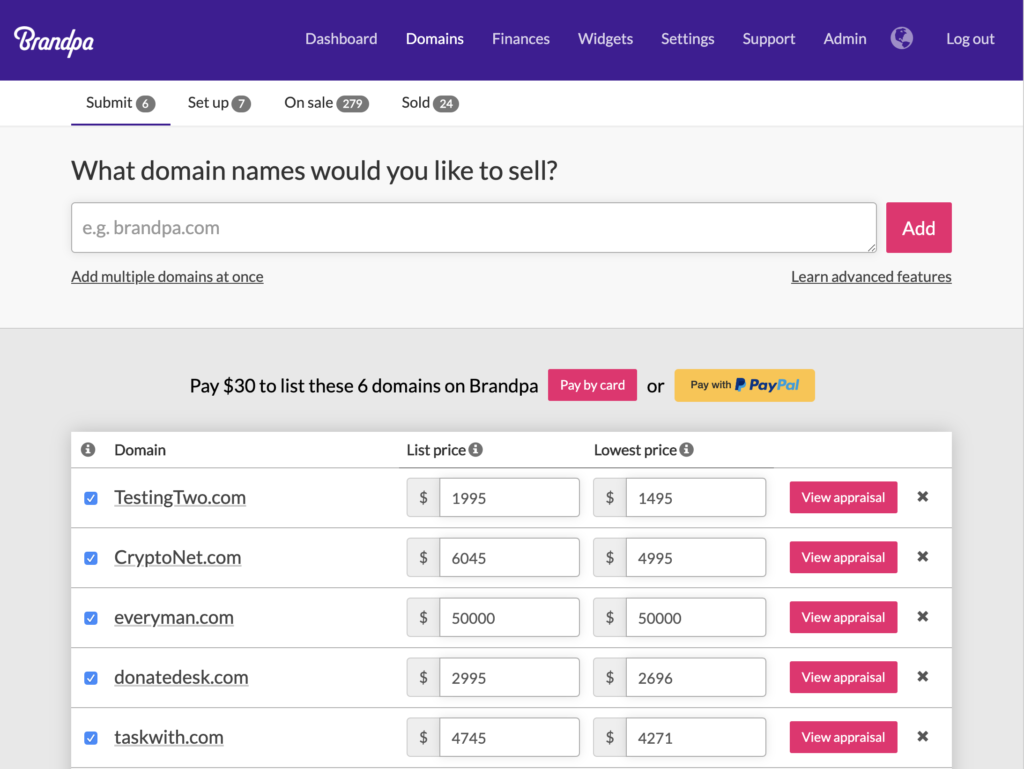 If you're a seller who has been waiting for your domains to be appraised, you should see those appraisals are now visible inside the new interface.
Set your own pricing
As of today, sellers have total freedom to set their pricing for all of their domains.
Brandbot will give you recommended pricing, but it's entirely up to you what pricing you go with. If you're importing a list of domains, you can even import your own pricing when you do so.
This decision is the result of over two years of experience working with our sellers. We've learned that much of the time, you have a better idea of pricing then we do. For the people who are less sure, Brandbot is a great place to get started.
All-new listing process
Our entire listing process has been redesigned to be much faster.
This is how it now works:
You enter a domain name and see Brandpa's appraisal in seconds.
You optionally tweak the list price (what the public sees) and your lowest price (what you'd be willing to accept after negotiation).
You pay for your listing.
You're now told there are three things to complete, and you can do them in any order: point the domain to Brandpa, tag it, and confirm/revise your logo design (below).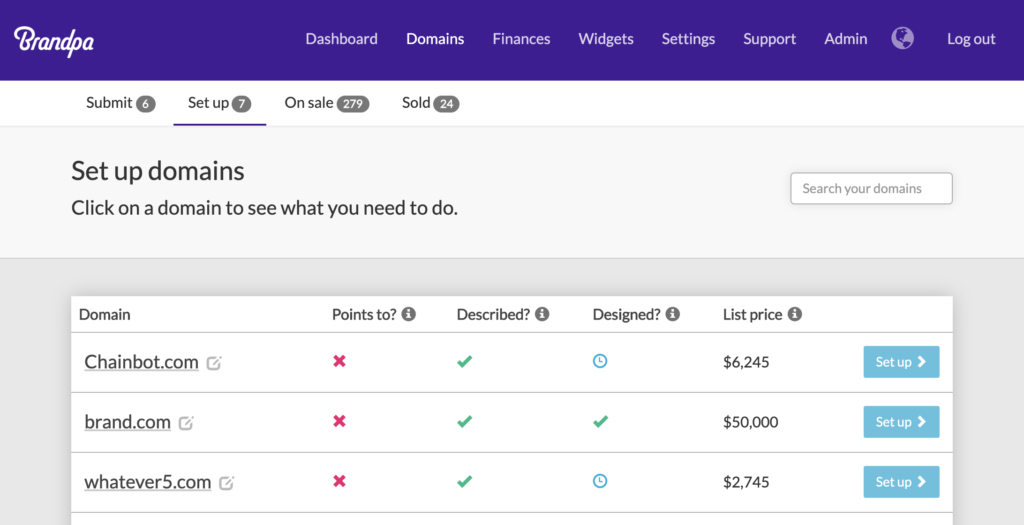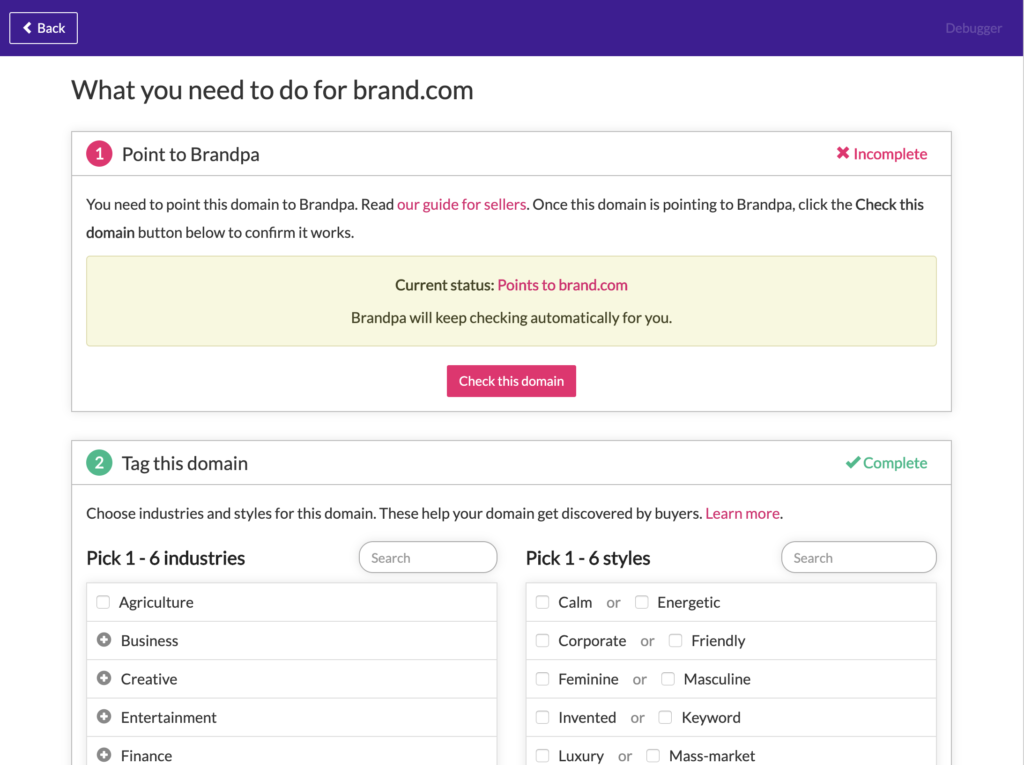 Once all three steps are complete, your domain is instantly listed.
Previously you needed to point domains, wait for them, tag domains, wait for a logo design etc. Because several steps now happen simultaneously, your listings should arrive much faster.
Update listed domains
Previously, once a domain was listed on Brandpa you couldn't change it in any way. This prevented sellers from optimising their listings over time.
Sellers can now update the following settings for listed domains:
List price [NEW]
Tags [NEW]
Case [NEW] (e.g. change "iphone.com" to "iPhone.com")
Lowest price
Instalments
You can only change the list price of a domain once every 90 days. We also prevent you from changing a list price within 7 days of a credible offer from a prospective buyer.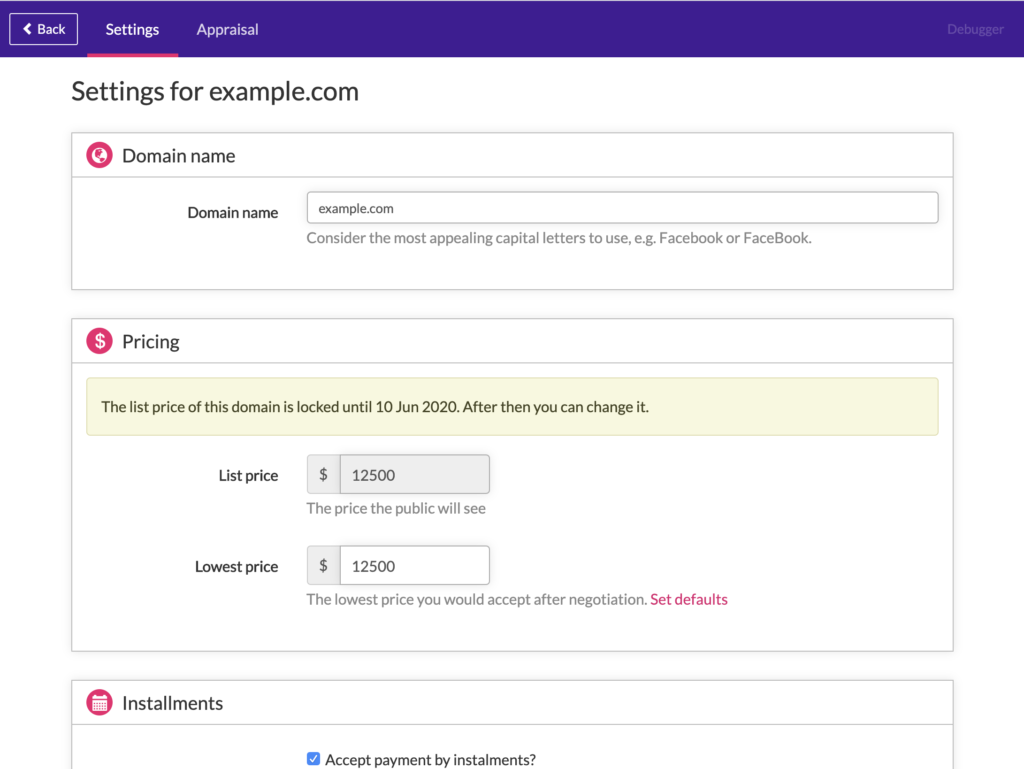 We also let you easily view an appraisal for any of your listed domains. This can help you consider how it is priced now, versus an up-to-date appraisal from Brandbot.
Keyword analytics
Not sure what keywords to look for in your portfolio? Until recently Brandpa would list our most in-demand keywords in our email newsletter.
Now you can access this data yourself. Click on the button under "What's in demand" on your new dashboard: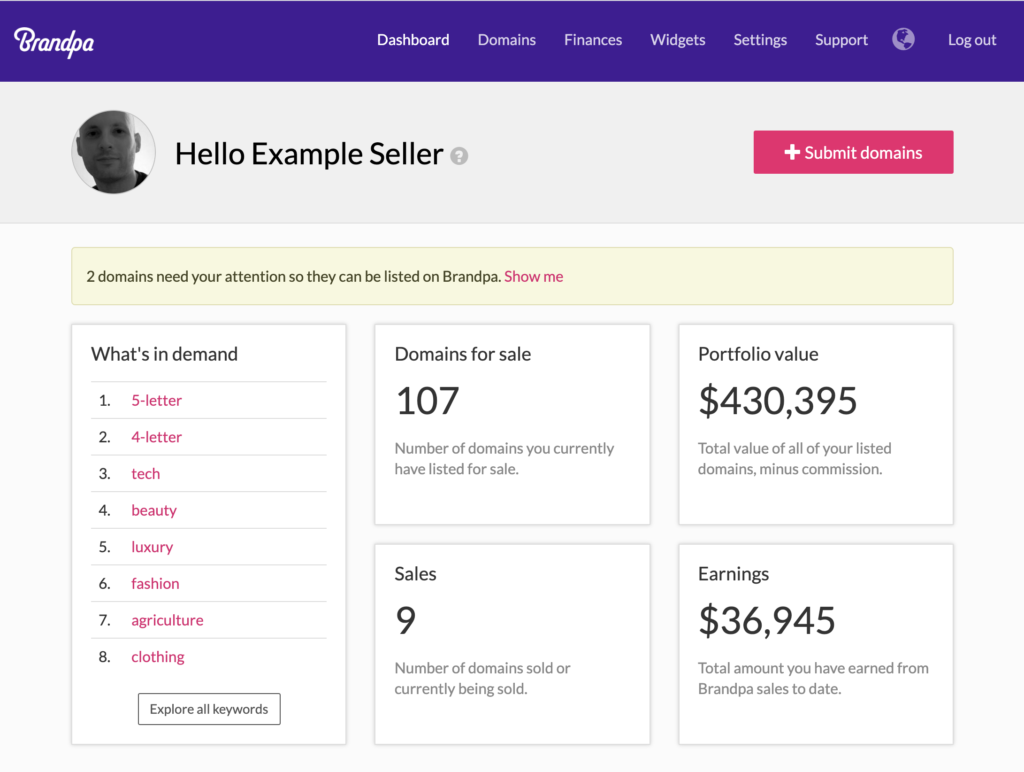 From here you can dive into individual keywords, and see how they compare for demand (a combination of sales, searches, and traffic).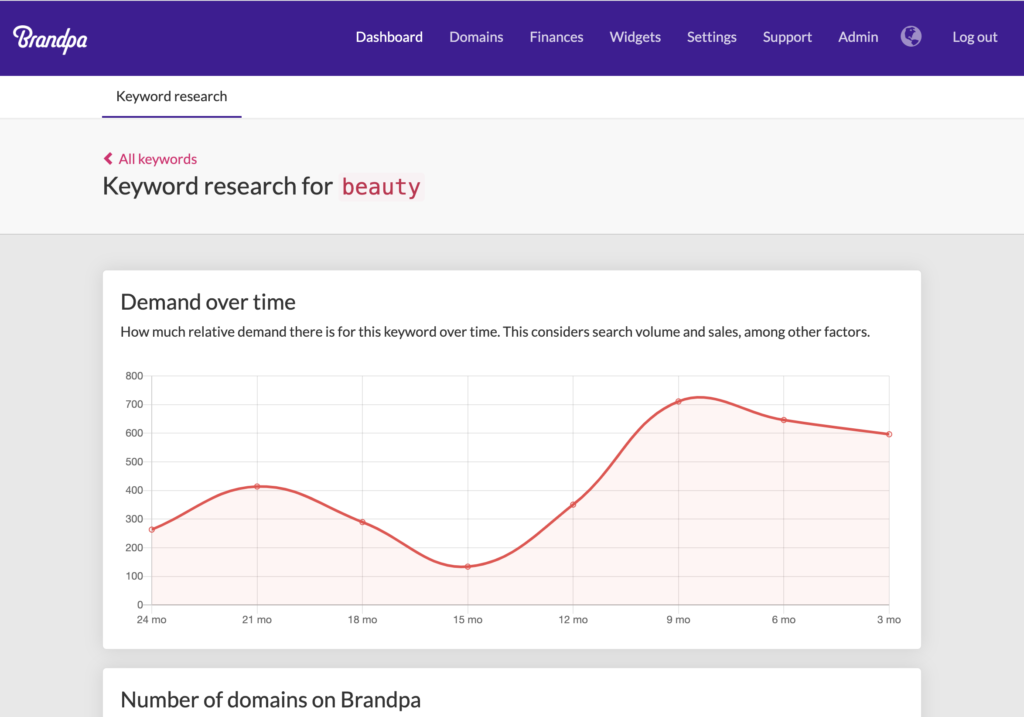 We also show you how many existing domains with that keyword are on Brandpa, so you can identify gaps on our website you could fill.
New shopping experience for buyers
We've massively improved search, filtering, and our domain categorising. It looks better too.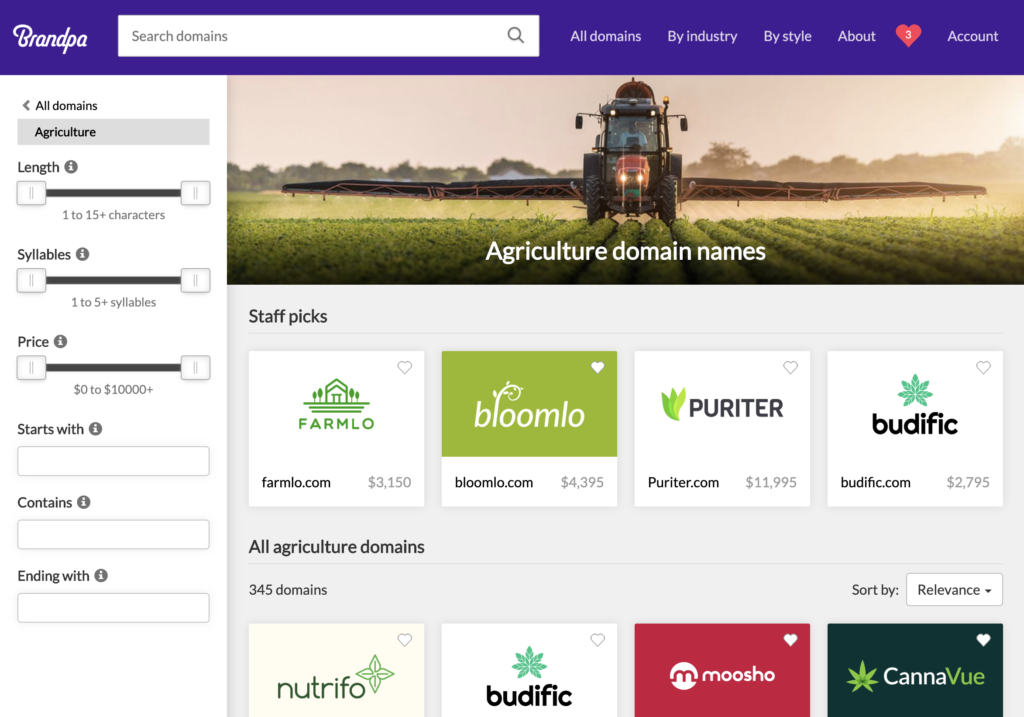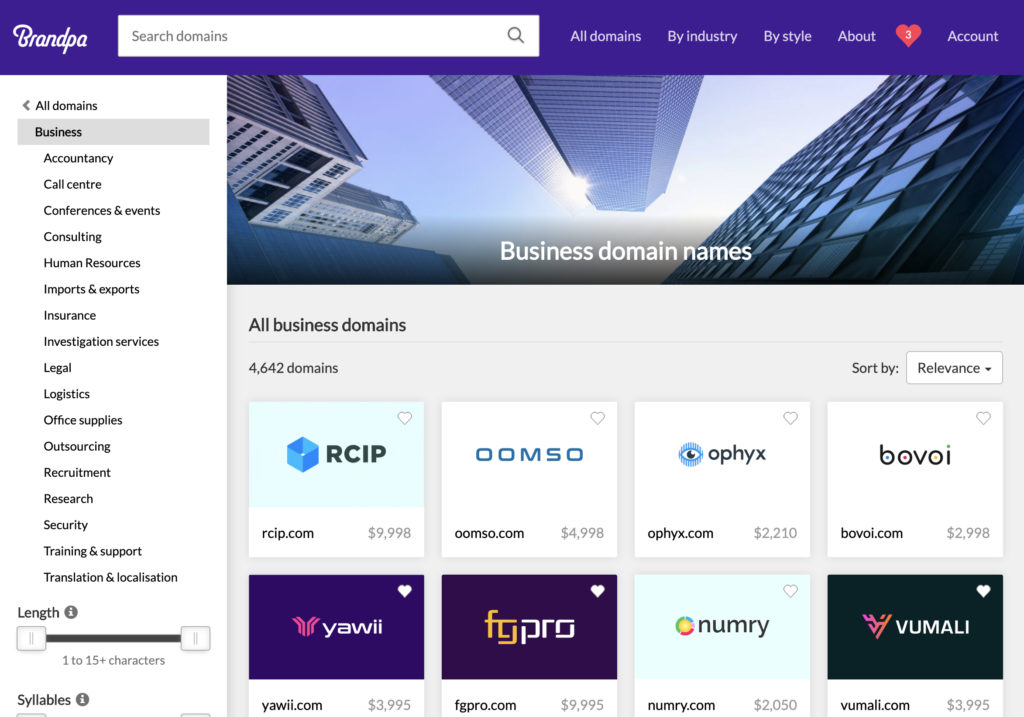 We first introduced tags over a year ago, but until now they never mapped exactly to what buyers saw on our website.
The tags in your seller's dashboard now correspond directly with the hierarchy we show to the public. There's a whole new mega-menu broken down into industries and styles. We recommend you study it and consider where best to position your domains.
Remove listed domains yourselves
In the past you had to contact Brandpa to remove a domain from sale once you had listed it. We've now added an interface to automate this process (click on the drop-down menu to the right-hand side of a domain).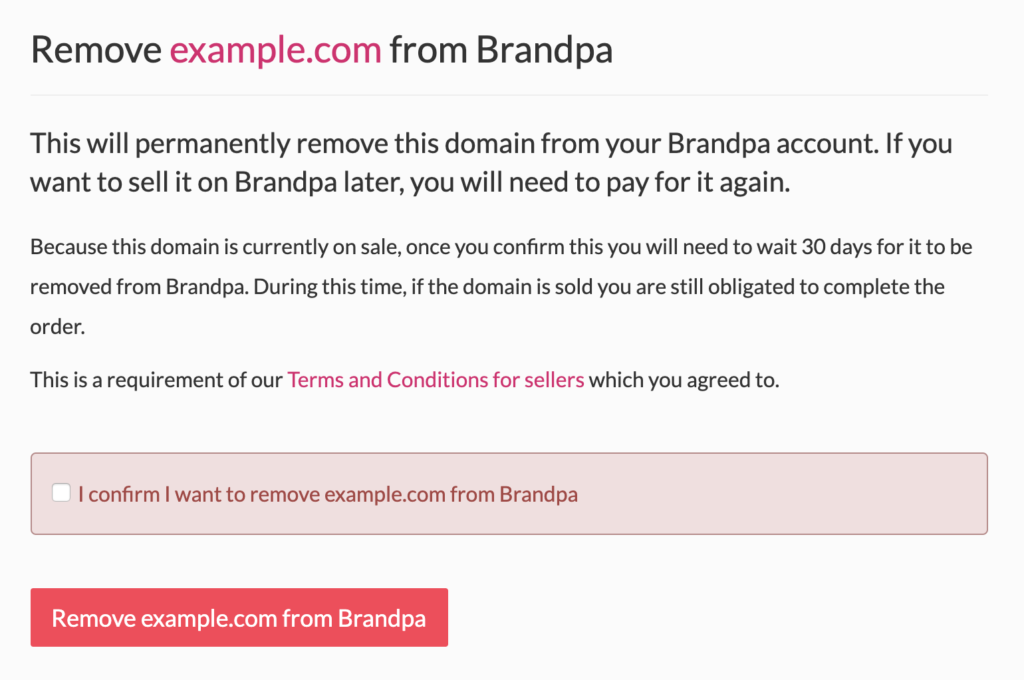 We require you wait 30 days for a domain to be removed, and that during this time you honour any purchases. This has always been a requirement of our terms and conditions for sellers.
New sellers and new pricing
For over six months we had stopped accepting new sellers onto Brandpa. As of now, we'll be accepting new ones.
New sellers must pay a listing fee of $8 per domain. This reflects the fact that we pay our designers more than we are paid for a listing, and so we've been running that at a loss for some time.
If you're an existing Brandpa seller, you will continue to pay $5, and we have no intention of changing that.
The future of Brandpa
We want to take a moment to explain our reasoning and our future direction.
Our aim is to be the best website for brandable domains. Up until now, we've strived to do this by manually curating every name, to keep the quality high.
However we've come to realise that this isn't in the interests of either our buyers (who want more selection, so long as they have quality) or our sellers (who want to list far more quickly than we can manually appraise). What we needed is a better process to deliver both.
We are very much aware of how some other websites that sell domain names have filled themselves with huge numbers of questionable domains, and as they do so the sellers find lower and lower sell-through-rates for their individual domains.
We aim to be different. To do this, there are a number of things we're doing:
Manual sorting. We will still be curating domains, but after they have been listed. For example, we can nudge better domains higher up our search results. We use a mix of AI, analytics, and people for this.
Curated storefront. You can see a hint of this in above, but we're adding a lot more to our store than the usual 'grid of logos'. Soon you'll see featured domains, staff picks, and more, curated by hand.
Micro-targeted marketing. Our new tagging system is designed to allow us to run ads and SEO campaigns for specific groups of domains. Everything in this redesign supports that.
Empowering sellers. We're just getting started with the seller's dashboard. We want to give you all the data you need to accurately price, negotiate, and sell your domains on our websites.
Most of our customers are buying domains for a new business or product. We will continue to optimise relentlessly for the kinds of domains they want. This means we're never going to accept an 18 character dot-net domain with 6 numbers and 3 hyphens, and honestly – we don't want to.
If you have questions or feedback on the new update, please contact us on Slack (if you have access) or send us a message.