Today we're making a wide range of improvements to Brandpa, which impact all sellers immediately.
Free and Pro listings
Brandpa now support two types of listing: Free or Pro.
Free listings are new, and are designed to give you the best looking and best converting free landing page you'll find anywhere.
Each listing is decorated with a banner image. We provide a wide range of attractive defaults if you haven't got the time:
But if you want to target a specific market, we let you search through millions of images, e.g. for fitness: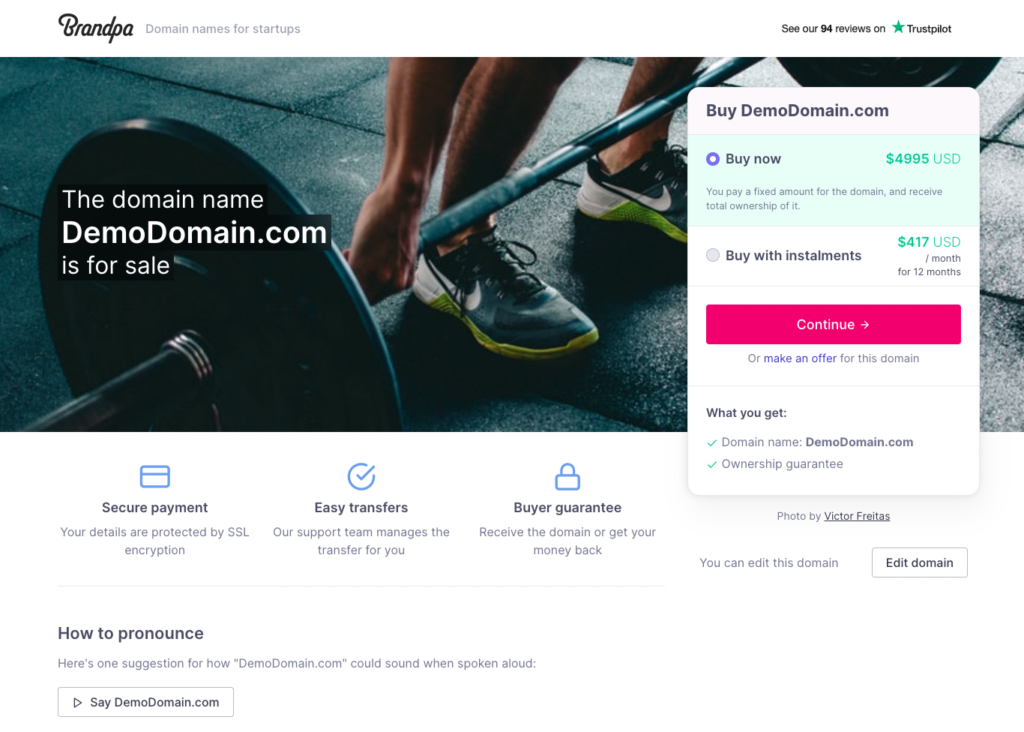 We've designed Free listings to be insanely easy to set up – literally something you can do in under a minute. As with Pro listings, you need to point your domains to Brandpa, but you can still list them for sale elsewhere.
Pro listings cost $5 / each, and have several extras:
Professional logo designed to your spec
Gorgeous 3D renders of each brand
Retargeting, adverts, and social promotion
Higher ranking in Brandpa search
More tags than Free listings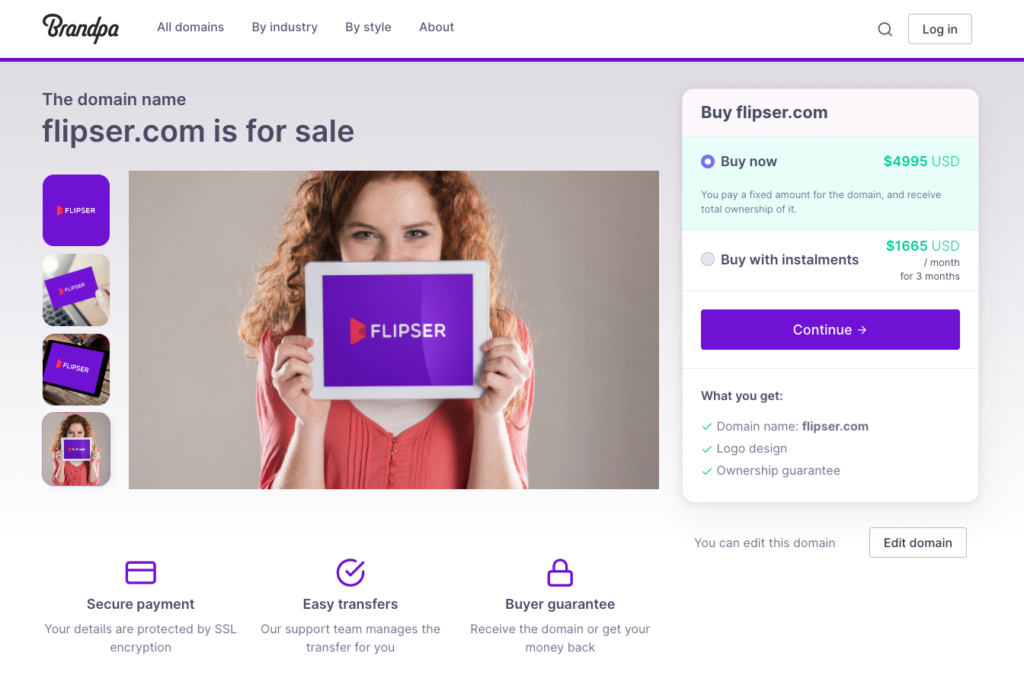 All existing Brandpa listings are now "Pro". Users with credits for listings can still use those for Pro listings, as before.
New public website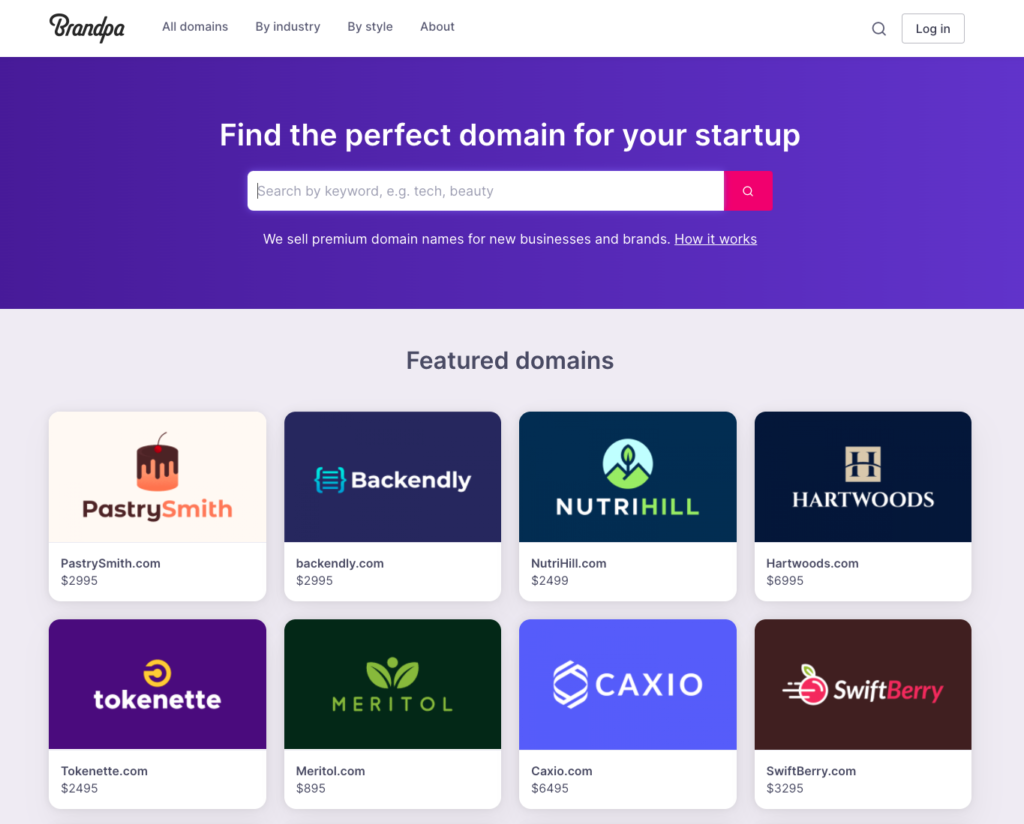 We've completely rebuilt our public website to make it look and convert better. Here are some highlights:
Visitor history
Once a visitor has looked at a domain page, we show a new expandable panel at the bottom, like this:

This shows them the most recent 20 domains they've viewed, and lets them easily return to past picks. If they come back to the same browser later, they'll still see their domains.
This emerged from our testing with customers, who might not use the favourites feature, and forget what domains they liked previously.
Distinct landing pages
All domain names now have two views:
The landing page view, which you see if you type in the domain name directly, or if someone links to it
The internal page view, which you see if you find the domain from inside Brandpa, e.g. via our search or section pages
The landing page doesn't show Brandpa's normal navigation, or any links to other domain names (we still mention Brandpa so we can demonstrate trustworthiness; our customers need to know who they're buying from).
The internal view now also shows related domain names at the bottom.
More control over offers
Previously Brandpa captured leads through a relatively fixed form at the bottom of the domain page. We've redesigned this completely.
We now allow sellers to choose between three options.
They can choose to clearly accept offers, which puts this option in the buy panel: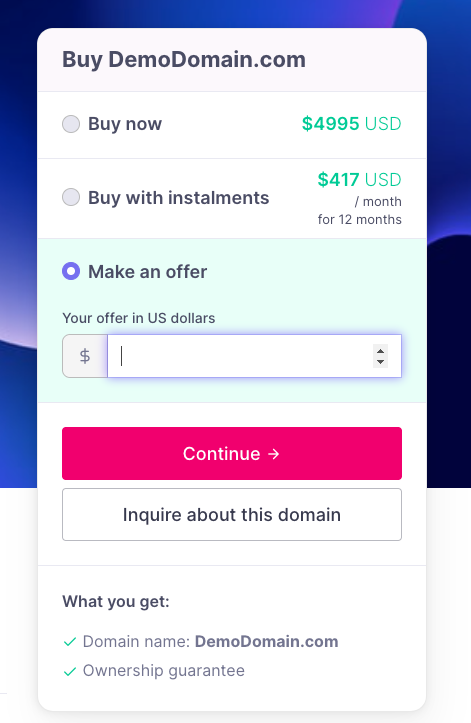 They can choose to subtly accept offers, which removes the "Make an offer" option, but stills allows Brandpa to negotiate if someone inquires about the domain: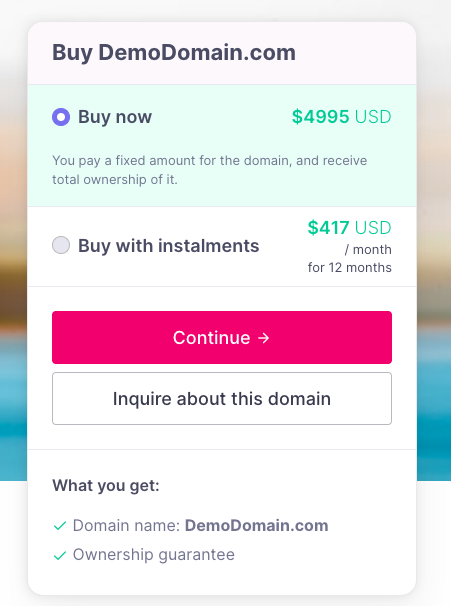 Or you can choose to never accept offers, and Brandpa will only ever accept your asking price.
All new dashboard
To administer these new features and more, we've completely rebuilt our seller's dashboard. For the moment, this is optional – you can continue to use the old dashboard if you prefer – but free listings are only available in the new one.
Customise your columns
Everyone wants more data in their dashboard. Now you can choose the columns you want to view: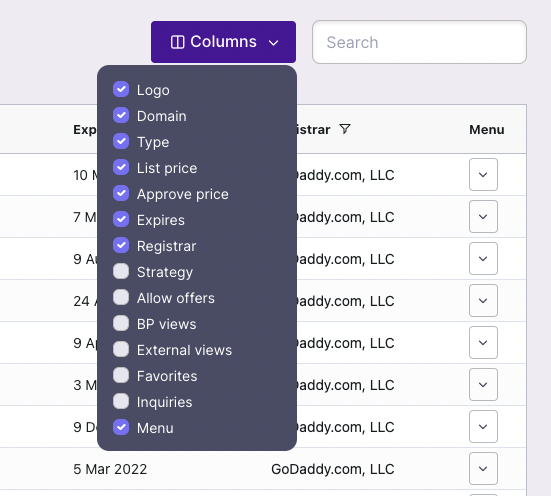 There are a LOT of new columns:
Type – is this a Pro or Free listing
Registrar – forgotten where your domain is held? No problem
Strategy – are you planning to renew or cancel? (more on strategy below)
Allow offers – do you accept offers, and how?
BP views – views from inside Brandpa (more on analytics below)
External views – views from outside Brandpa (more on analytics below)
Inquiries – track how many inquiries a domain has received (more on analytics below)
Filter and sort everything
You can now filter just about anything in your dashboard by clicking on a column header.
For example, show your domains priced over a certain amount: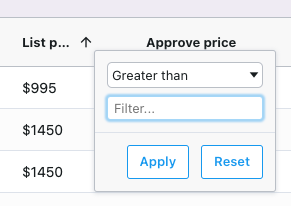 Or find your domains held with GoDaddy: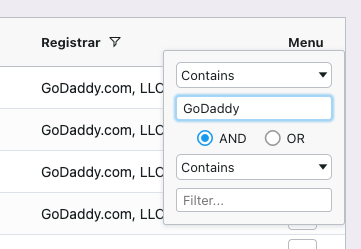 You can sort and filter by just about anything, and it should all be ridiculously fast.
New analytics
Our testing has shown our existing analytics was confusing and often unhelpful. We've redesigned it to specifically help sellers understand when a domain is worth repricing, renewing, or negotiating: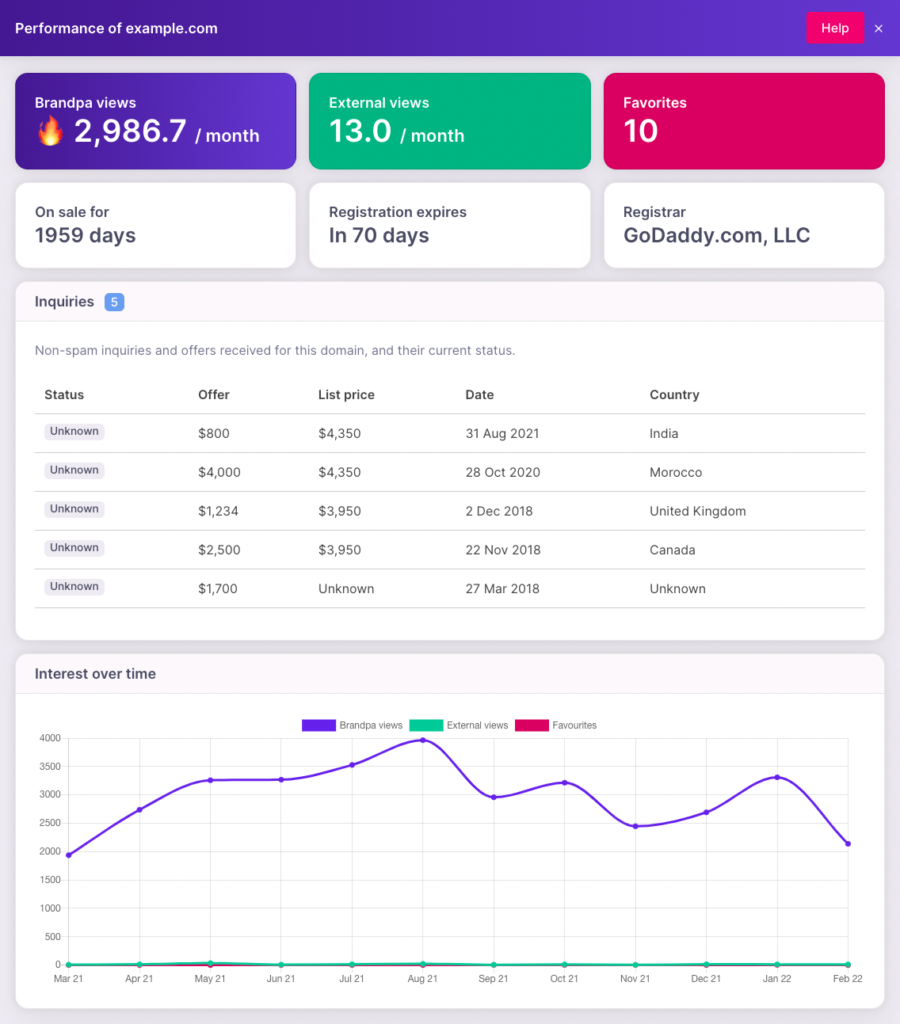 Clicking on the Help button (top right) explains each area in detail.
A key addition here is Inquiries. We're now recording and sharing the list of inquiries you receive for your domains.
With new inquiries, we're able to capture and share more information, including the real-time status of those enquiries. This means, for example, we'll tell you why a sale didn't close, and the range on the offers you received (e.g. started at $1,000, went up to $2,000, refused to go higher).
Some small print about inquiries:
We filter out spam and fake inquiries for you.
We've imported all of the data we can from our old inquiries, but historical records aren't perfect.
Manage expiring domains
A common challenge for sellers is deciding what domains to renew, drop, and reprice. We've built a few new features to help.
The new Expiring option under Domains shows you when your domains will expire, in a calendar: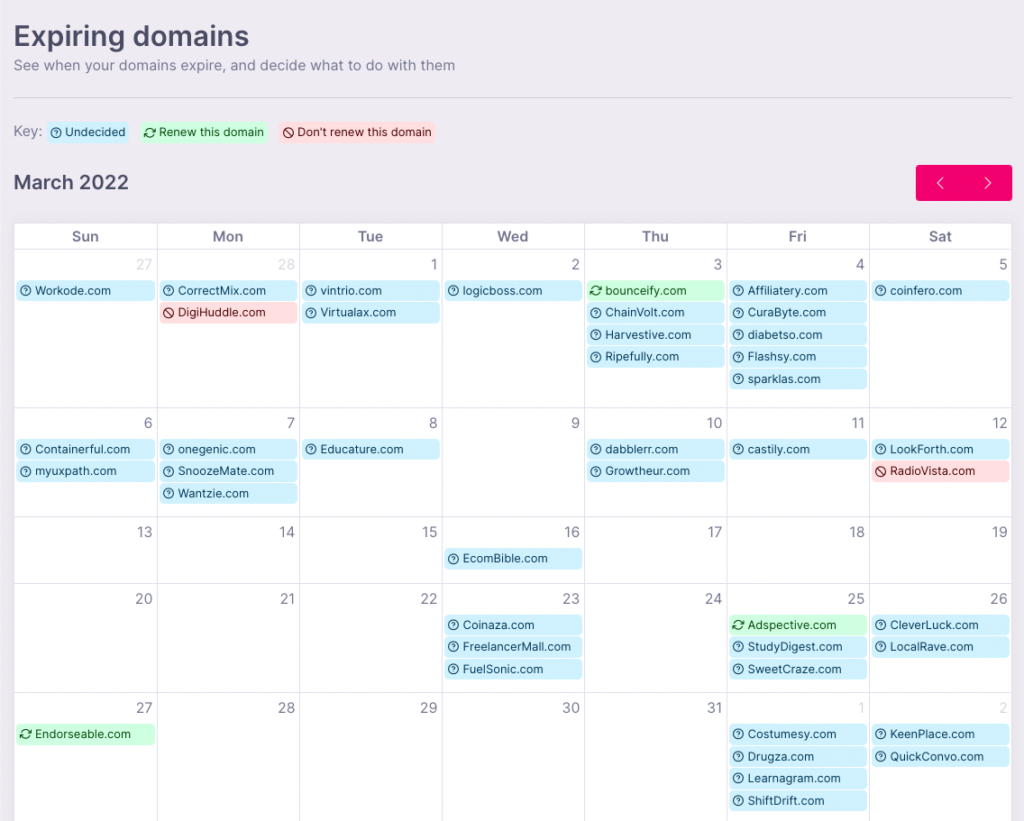 You can click on a domain to view analytics for that domain, and to make quick changes to the price and strategy of the domain.
The strategy allows you to remember if you want to renew or not-renew a domain in future. We don't have the ability to actually renew or not-renew for you unfortunately (we'd need an API from every registrar in the world), but we show your choice as a colour in the calendar view.
You can also choose to show the new Strategy and Registrar columns to view this in a table, if you prefer: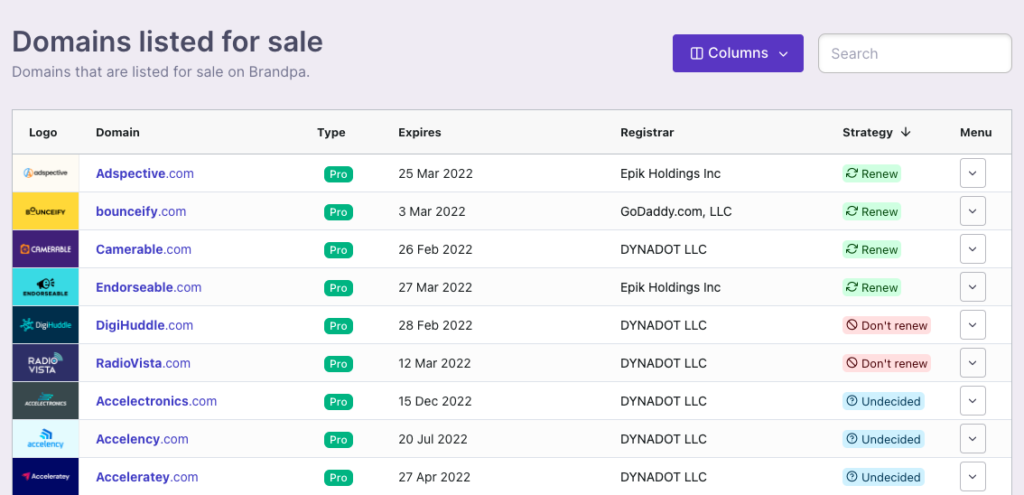 Think of this as a tool for going through your domains ahead of their expiry, and quickly deciding which ones you want to keep, cancel, or reprice. Remember, you still need to do the actual renewal or cancelation with your registrar.
We're aiming to make Brandpa the best place to manage your domain portfolio, and these features are a key part of that.
Buy new logos
Sellers can now choose to pay for a new logo, if they wish. We also now provide easy access to the history of your design process:

Enhanced promotion
Brandpa has been doing retargeting for some time – i.e. visitors who view your domains are likely to see those domains again in adverts within social networks and other advertising platforms.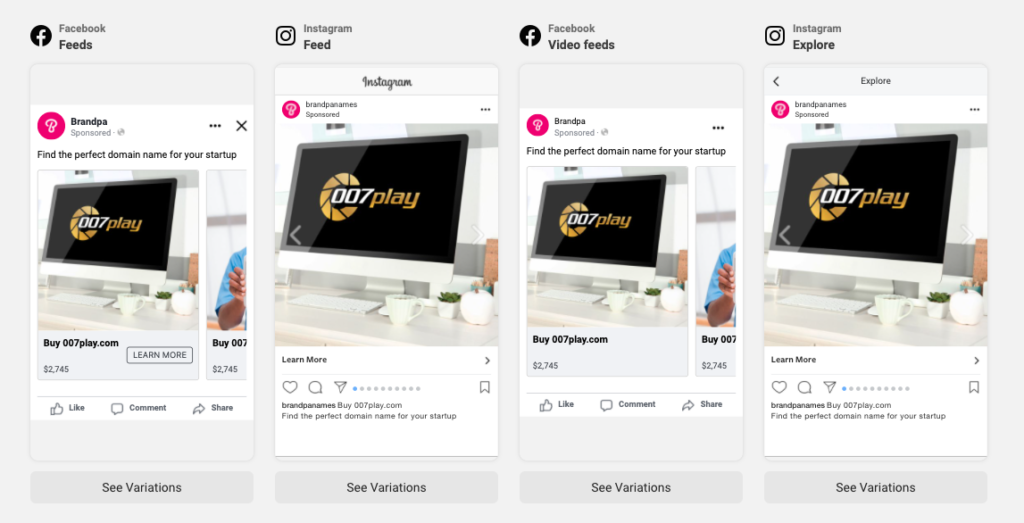 We've upgraded our tech here to go further as of today, and we have more exciting announcements in this area to follow soon.
How to access your new dashboard
You'll be shown a link to your new dashboard when you log in. A yellow panel at the top of the screen will take you there.
You can choose to return to your old dashboard at any time.